Multilingual digital platform launched for knowledge sharing in Social Sciences and Humanities
16 march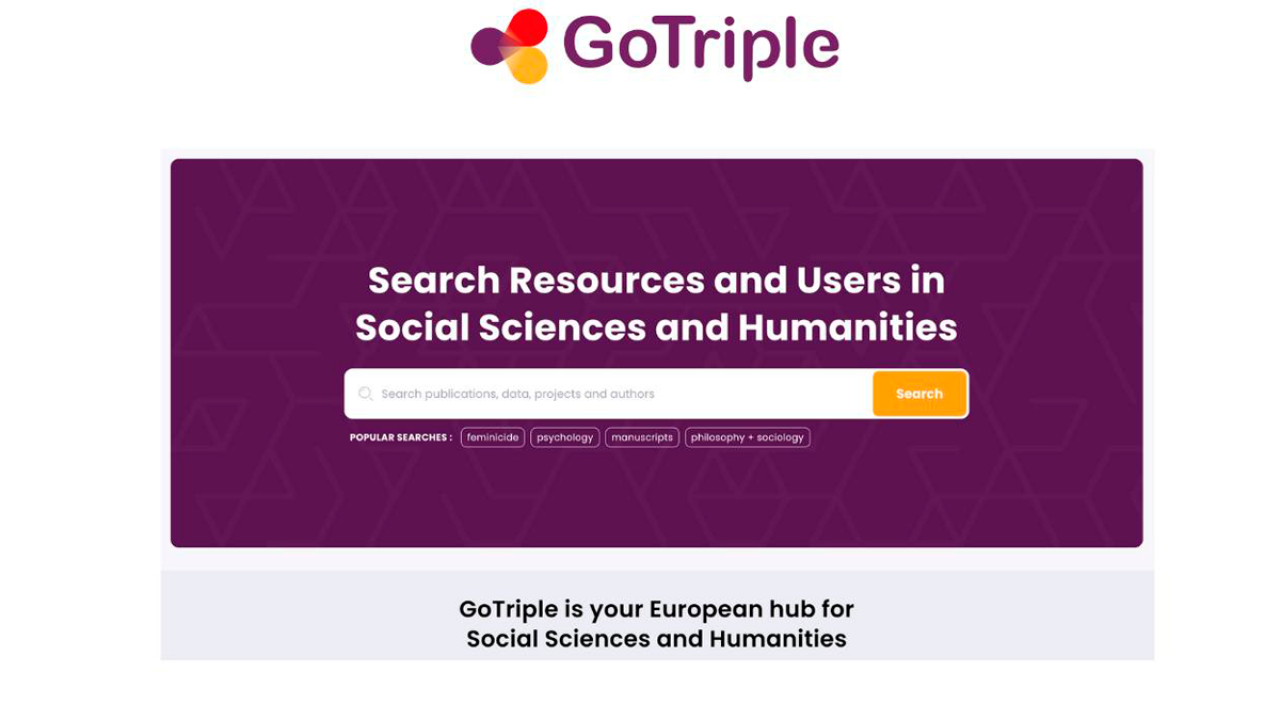 The multilingual digital platform GoTriple has just been launched: an innovative knowledge sharing tool, covering 11 languages and 27 disciplines under the umbrella domain of Social Sciences and Humanities, developed within the European project TRIPLE (Transforming Research through Innovative Practices for Linked Interdisciplinary Exploration), integrated by the University of Coimbra (UC).
The platform is the result of an intense collaboration work between 22 institutions from 15 countries (mostly members of the OPERAS consortium - Open Scholarly Communication in the European Research Area for Social Sciences and Humanities), which received a European funding of 5.6 million under the Horizon 2020 framework programme for research and innovation.
Since 2019, the University of Coimbra and the other 21 partners have worked towards the development of a multidisciplinary and multilingual tool for sharing scientific papers and publication results, in addition to researchers' projects and profiles, to become available to citizens, companies and the whole society - complying with the principles of open science and enabling interaction and grant/request for scientific research funding.
The main result of this project is the platform now launched: a pioneering pan-European open access "discovery service" covering - but not restricted to - 11 languages (Croatian, English, French, German, Greek, Italian, Polish, Ukrainian, Portuguese, Slovenian, Spanish and Greek) and 27 disciplines of Social Sciences and Humanities.
GoTriple, will be the Discovery Service of OPERAS -the Research Infrastructure supporting open scholarly communication in the social sciences and humanities in the European Research Area. It includes features such as a recommendation system that suggests publications, authors and projects based on previous search queries; a Trust Building System, which allows users to connect their social circles; and a scientific collaborative funding service, which helps researchers develop communication strategies and obtain seed funding for their projects. The platform provides two innovative options for viewing research maps (Streamgraph and Knowledge Map) and an online annotation tool (Pundit).
To better enable the research community to interact, GoTriple also supports the development of academic networks, allowing each user to publish their knowledge and the projects they are involved in, and to get in touch with peers via chat.
The contribution of the University of Coimbra to its development is perfectly aligned with the institutional policies of promoting Open Science, multilinguism and safeguarding the Portuguese language as a core language in science communication", states the Vice-Rector of the UC for Culture, Communication and Open Science, Delfim Leão.
More information about the TRIPLE project are available at https://www.uc.pt/en/openscience/ and https://project.gotriple.eu/
---------------------
Original news article in Portuguese: Rui Marques Simões
English version: Diana Taborda