European study proposes agri-environmental strategy to protect pollinators and improve crop productivity
27 july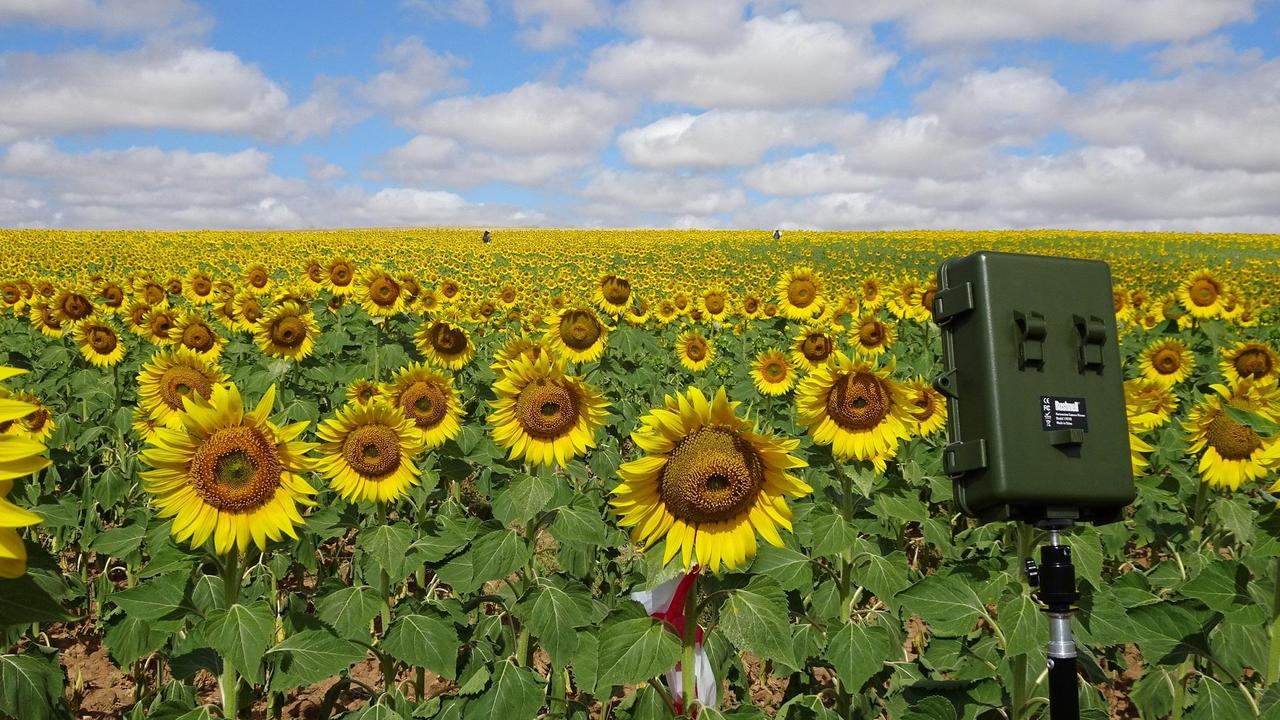 According to a study coordinated by Lucie Mota and Sílvia Castro, researchers of the University of Coimbra (UC), the implementation of flower strips is a successful strategy to promote pollinators and sunflower productivity in regions with natural and semi-natural vegetation. The results have just been published in the Journal of Applied Ecology, specialised in conservation biology.
The study proposes ways to mitigate the effects of intensification of agricultural landscapes to fulfil increased global food demands, and its impacts on biodiversity and ecosystem services, especially the various groups of pollinators, vital for the maintenance of pollination-dependent crops.
In this particular study, which aimed to assess the effect of implementing wildflower strips near sunflower fields in two regions of intensive agriculture and quantify their impact on visitation rates and sunflower productivity, Sílvia Castro, co-author of the study, explains that strips were obtained "by using seed mixtures of melliferous plants that are attractive to bees. Thus, the pollinating insects feed on the pollen and nectar of these flowers, which blossom before the sunflower, and then move on to the crop when it is in bloom".
Wildflower strips are small areas next to agricultural fields that have floral resources, "for example, flowering plants, with the goal, among others, to provide food - pollen and nectar - to pollinating insects, especially when the agricultural crop is not in bloom and food resources are scarce," explains Lucie Mota, first author of the scientific paper and researcher at the Centre for Functional Ecology of the Faculty of Sciences and Technology of the University of Coimbra (FCTUC).
The work was carried out in two regions of Spain (Burgos and Cuenca), in sunflower fields with associated semi-natural vegetation, with the implementation of flower strips and without vegetation. Over two years, the team from the University of Coimbra, in collaboration with partners from the Autonomous University of Madrid and the University of Burgos (Spain), recorded pollinator visitation rates, through direct observations, and quantified both seed production and seed weight, in 52 fields each year.
According to the two researchers, this study draws attention to the importance of conserving natural or semi-natural green areas in an agricultural landscape. "These green infrastructures provide habitats for pollinating insects, which are fundamental to food production. In this specific case, sunflower can be used mainly to obtain oils, but this is only possible through efficient pollination," say Lucie Mota and Sílvia Castro.
This study is part of a larger project, the Poll-Ole-GI SUDOE, funded by the European Programme Interreg-Sudoe and the European Union Support Programme for Research and Innovation Horizon 2020 (Ecostack).
Poll-Ole-GI SUDOE, financiado pelo Programa Europeu Interreg-Sudoe e pelo Programa de Apoio da União Europeia para a Investigação e a Inovação Horizonte 2020 (Ecostack).
The scientific article is available at: https://besjournals.onlinelibrary.wiley.com/doi/10.1111/1365-2664.14241
----------------------
Original news article in Portuguese: Cristina Pinto
Abridged version in English: Diana Taborda