Webinar: New Opportunities for Sustainable Mobility in Times of Pandemic
27 october, 2020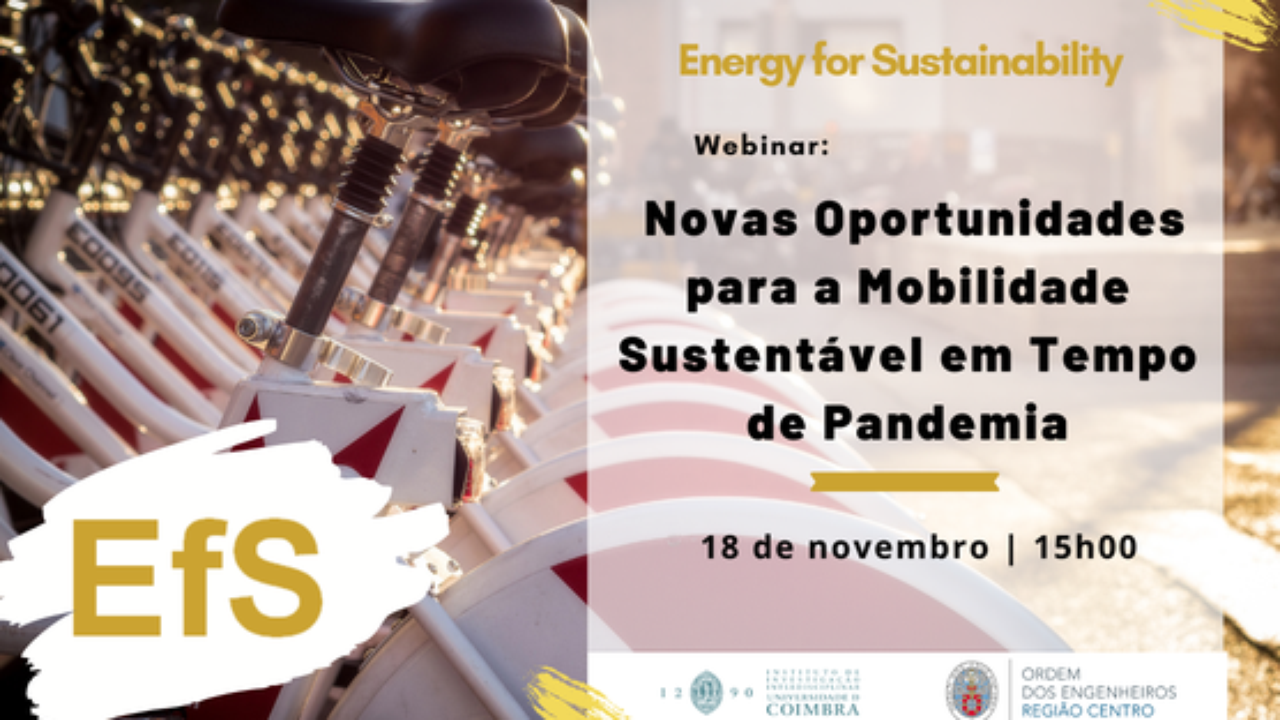 The Sustainable Campus Committee of the EfS Initiative, III-UC, is organizing a webinar on New Opportunities for Sustainable Mobility in Times of Pandemic. The session, which will start at 3 pm, November 18th, will count on the participation of the strategic area of ​​the University of Coimbra on "Climate, Energy and Mobility", the Complutense University of Madrid, the City Council of Coimbra and the Order of Engineers. The event aims to identify opportunities and strategies for adaptation and innovation within sustainable mobility in times of pandemic.
REGISTRATION
The free webinar requires registration, please, fill out the following registration form by November 17, 2020! Here.
You will receive a confirmation email with the link to the session on November 18th.
YOUTUBE
The session will be streamed live via the EfS Initiative YouTube channel!
Main language of the webinar: Portuguese
PROGRAM
Chairperson | Anabela Ribeiro | Centro de Investigação do Território, Transportes e Ambiente (CITTA)
15h00 | Opening | José Costa | Comité de Campus Sustentável da Iniciativa de Energia para a Sustentabilidade da Universidade de Coimbra
15h05 | "Clima, Energia e Mobilidade" área estratégica da Universidade de Coimbra - Isabel Neves | Instituto de Investigação Interdisciplinar
15h10 | Oportunidades para la Movilidad Compartida en Tiempos De Pandemia | Javier Gutiérrez Puebla | Universidad Complutense de Madrid
15h25 | Inovação pedagógica na área da mobilidade sustentável | Manuel C. Gameiro | Iniciativa de Energia para a Sustentabilidade - Universidade de Coimbra
15h40 | A adaptação dos transportes públicos em tempos de Pandemia: A experiência dos SMTUC | Ana Braga | Serviços Municipalizados de Transportes Urbanos de Coimbra
15h55 | Maria Emília Carvalho Homem | Ordem dos Engenheiros-Região Centro
16h00| Q&A
16h20| Closing
_
Photo by Jônatas Augusto Manzolli