TRIPLE ThatCamp: event discusses discovery in the social sciences and humanities
All people interested in Open Science are invited to participate. Event takes place via Zoom and Miro.
23 april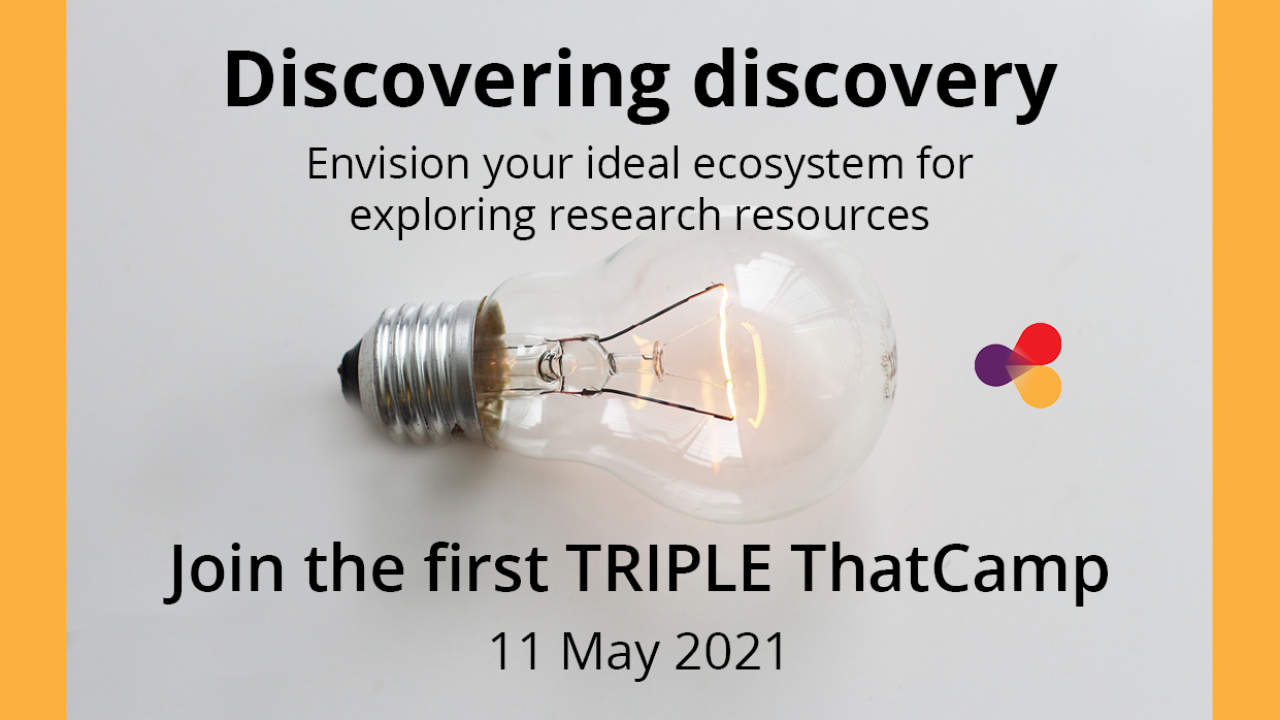 The first edition of TRIPLE ThatCamp takes place on the 11th of May: the event is an "unconferece" which emphasizes the exchange of information and ideas between the participants, and which will focus on the theme of discovery in the Social Sciences and Humanities (SSH). "ThatCamp" means "The Humanities and Technology Camp", a format based on the concept of "BarCamp", an open, agile and spontaneous meeting where participants learn and work together by engaging in group discussions, co-working sessions and other forms of collaborative work.
The first TRIPLE ThatCamp calls for the theme "Discovering Discovery - Envision your ideal ecosystem for exploring research resources", and is linked to the main objective of the TRIPLE project: to develop the GOTRIPLE platform, a multilingual and multicultural discovery solution for the social sciences and humanities. GOTRIPLE will provide a single point of access for a variety of users (researchers, institutions such as universities and libraries, companies, consultancies and media representatives) for a range of uses, such as: discovering and reusing SSH resources; finding and connecting with other researchers and projects; using innovative tools to support research; and discovering new forms of research funding in the SSH.
Thus, the objective of the event will be to provide a forum for the sharing of concepts, strategies and resources for the discovery of research and getting research discovered. The event is an opportunity to learn and create together, identify roadblocks, raise concerns and dream-up solutions on a peer-to-peer level. UC is a member of the TRIPLE project and also invites its community to engage in the event.
The first edition at May 11th proposes some questions in order to getting to know more about the future users of the GOTRIPLE platform and their perspectives on the research discovery journey:
- How would you define "discovery" in the research cycle?
- What is your epistemological point of view on "discovery" in a research context?
- What are your current strategies for discovering research resources?
- How to make sure that your own research gets discovered?
- What are you struggling with technologically?
The event is free of charge and will be hosted using Zoom for video conferences and Miro, a collaborative whiteboard tool. Participants are encouraged to produce written and/or graphic materials to document their ideas. TRIPLE will share these materials with the community, publishing them on Zenodo and on the TRIPLE website, in addition to disseminating them via social media.
Session formats are defined by the participants, i.e., the session leaders. Everyone is invited to submit suggestions. At the beginning of the event, those willing to lead a session will be invited to present their idea (in 30-60 seconds), and participants will vote on the topics that will find their way in the agenda.
All people interested in the field of Open Science are invited to participate. The focus of the event is on the perspective of the social sciences and humanities (CSH), but people with a background in other fields are also welcome. Once registered, each one will be able to add their ideas on the virtual Miro whiteboard, using the link that will be sent once they complete their registration, to jumpstart the process. Some ideas for proposals include: presenting a project, article or speech that you are working on and that you would like other people to collaborate on; share a story to hear the opinions of other participants; put a problem on the agenda for discussion and seek for solutions together.
About TRIPLE ThatCamps
Over the course of the TRIPLE project (2019-2023), three ThatCamp events will be held, bringing together people who are interested in Open Science and the Social Sciences and Humanities (SSH): researchers, universities and other research institutions, publishers, libraries and Open Access repositories, but also non-academic groups, such as IT specialists, public authorities and policy makers, media, companies, non-governmental organizations and citizens.
ThatCamp is non-hierarchical, non-disciplinary and inter-professional: it gathers from students to postdoctoral researchers, from university librarians to developers of research platforms, from representatives of national governments to policy makers at the European level. A variety of perspectives will enrich the discussions about Open Science in the social sciences and humanities.
As it is an unconference, there are no designated speakers, nor spectators, and all perspectives are equally valued. What participants will find are not prepared presentations and monologues, articles, demonstrations or workshops. It is the participants themselves who define the agenda, proposing topics important to them in the weeks leading up to the event and deciding on that day's ThatCamp sessions. Breakout sessions are organized by topic and led by one of the participants.
Each TRIPLE ThatCamp will address a specific overarching theme that relates, for instance, to Digital Humanities, discovery technologies, scientific communication, societal impact of research in the social sciences and humanities, or internationalization of research.
| Learn More |
Go to the TRIPLE ThatCamp webpage and register for the event.
Find out more about what a "ThatCamp" is.