CeBER
Centre for Business and Economics Research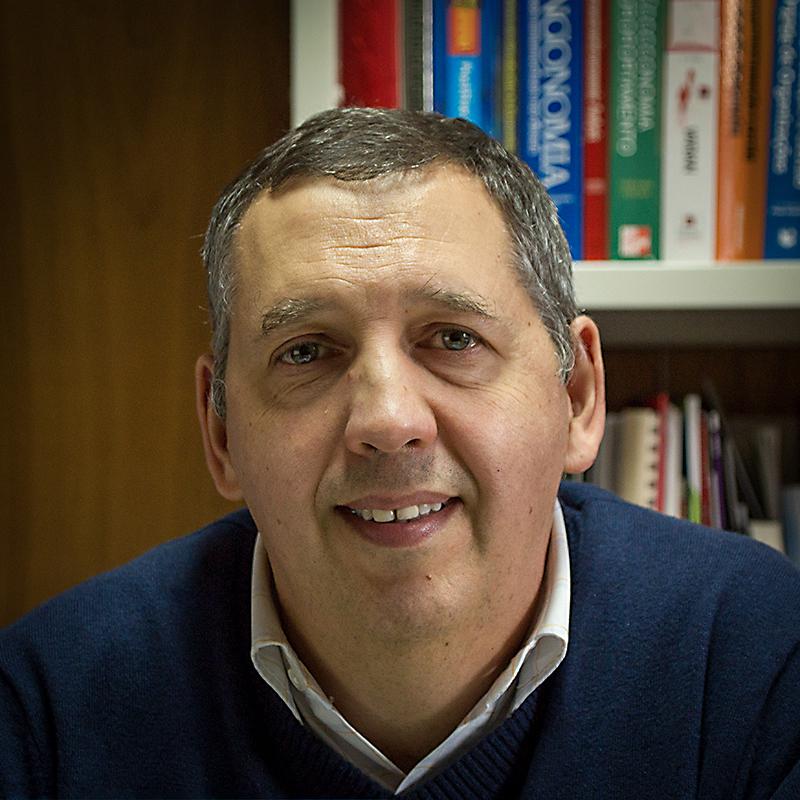 ---
Short bio
Luis Cruz holds a PhD in Environmental Social Sciences (Keele University, UK -2003), a Master in Financial Economics (1997) and a Degree in Economics (1993) by the Faculty of Economics, University of Coimbra (Portugal). He is Assistant Professor at the Faculty of Economics of the University of Coimbra (UC), and coordinates advanced educational programs within the Energy for Sustainability (EfS) Initiative of the UC, which include a Doctoral degree in association with the MIT-Portugal Program, as well as a Master's degree and a Specialization course offered within the University. His research interests include the modelling and analysis of environmental and socio-economic interactions, with a policy oriented focus. He has been author and reviewer of articles in peer-reviewed international journals (e.g.: Cities, Environmental Management, Journal of Forest Economics, Water Policy, Energy Policy, Sustainable Cities and Society, Utilities Policy, International Journal of Sustainability in Higher Education). He has been participating in a number of R&D national and EU-funded projects and contracts with the industry and he is also a researcher at the GEMF and CeBER R&D centers.
Projects
EMSURE - Energy and Mobility for Sustainable Regions (2013-2016). 
Parque Escolar – Energy Efficient Schools (3Es) (2012-2014) 
DEMOSPIN - Economically Sustainable DEMOgraphy: ReverSing Decline in Peripheral RegIoNs (2010-2013).
Technical Reports on the Economic and Financial Justification of the Tariffs for Water and Waste Services. 
Technical Reports with the integrated study of global economic impacts (using Cost-Benefit Analysis) associated with the construction of major road infrastructures (2008-2010).
Supervision of PhD Students
(2016) How commuting influences urban economies and the environment: a commuting satellite account applied to the Lisbon Metropolitan Area
Sustainable Energy Systems
(2013) The recreational use value of a national forest
Economics
Projects
Comissão de Coordenação e Desenvolvimento Regional do Centro (CCDRC)
, 2021-2023
FCT - Fundação para a Ciência e a Tecnologia
, PCIF/AGT/0062/2018
, 2020-2022
Publications
(2021) The forestry products value chain and the costs of reshaping it: multi-regional impacts of shrinking the pulp and paper industries in Portugal. Investigationes Regionales / Journal of Regional Research, 3, 149-165.
Authors
(2021) The impact of COVID‐19 on global value chains: Disruption in nonessential goods production. Regional Science Policy & Practice, 13, 32-54.
Authors
(2020) Os modelos Input-Output, a estrutura setorial das economias e o impacto da crise da COVID 19. In: Garrido, A., Costa, H (Ed.), Um Vírus que nos (Re)une – Reflexões da FEUC, (pp 85-97). Vida Económica.
Authors
(2019) Energy–Economy–Environment Interactions: A Comparative Analysis of Lisbon and Sao Paulo Metropolitan Areas. Journal of Environmental Assessment Policy and Management, 21, 1950002.
Authors
(2019) Port wine value chain: from the Douro Valley to Oporto Cellars. British Food Journal, 121, 466-478.
Authors
(2018) Regulatory focus, consumer values, and pro-environmental behaviors. Atas da IAREP 2018 Conference, Londres, Reino Unido, 19 a 22 de Julho.
Authors
(2018) The opportunity costs of commuting: the value of a commuting satellite account framework with an example from Lisbon Metropolitan Area. Economic Systems Research, 30, 105-119.
Authors
(2017) Vertical fragmentation in Portuguese exports: A multi-regional input-output analysis. XLIII International Conference on Regional Science - "International Trade and Employment: a regional perspective".
Authors
(2017) Sustainable Tourism for the future: setting the research agenda. 3rd Energy for Sustainability Multidisciplinary Conference (EFS 2017) – "Designing Cities & Communities for the Future".
Authors
(2017) Energy Efficiency Impacts: A Multiregional Application to Portugal. XLIII International Conference on Regional Science - "International Trade and Employment: a regional perspective".
Authors
(2017) Greening transportation and parking at University of Coimbra. International Journal of Sustainability in Higher Education, 18, 23-38.
Authors
(2017) Testing the transport energy-environmental Kuznets curve hypothesis in the EU27 countries. Energy Economics, 62, 257-269.
Authors
(2017) Modeling commuting patterns in a multi-regional input--output framework: impacts of an `urban re-centralization' scenario. Journal of Geographical Systems, 19, 301-317.
Authors
(2017) Affect and the adoption of pro-environmental behaviour: A structural model. Journal of Environmental Psychology, 54, 127-138.
Authors
(2017) Economic growth and environmental impacts: an analysis based on a composite index of environmental damage. Ecological Indicators, 76, 191-130.
Authors
(2017) Assessing an Agri-Food Development Strategy: a Bi-Regional Input–Output Model with Resource-Constrained Sector. European Review of Agricultural Economics, 44, 860-882.
Authors
(2017) Comportamentos ambientais da população de Estarreja. In: Pires, Sara Moreno, Aragão, Alexandra, Fidélis, Teresa, Mendes, Ireneu (Ed.), Indicadores de Desenvolvimento Sustentável: Instrumentos Estratégicos e Inovadores para Municípios Sustentáveis - O caso de Estarreja, (pp 239-257). Coimbra: Instituto Jurídico | Universidade de Aveiro | OHMI-Estarreja - CNRS-INEE-LabEx DRIIHM.
Authors
(2016) Water affordability issues in developed countries – The relevance of micro approaches. Utilities Policy, 43, 117-123.
Authors
(2016) Non-market valuation of environmental goods in Portugal. Revista Portuguesa de Estudos Regionais, 41, 49-59.
Authors
(2016) Energy and CO2 intensity changes in the EU-27: decomposition into explanatory effects. Sustainable Cities and Society, 26, 486-495.
Authors
(2016) Para uma análise dos Custos do Medo em Portugal. In: Santos, Rita, Moura, Tatiana, Pureza, José Manuel (Ed.), Violência e Armas de Fogo em Portugal, (pp 369-387). Coimbra: Almedina.
Authors
(2015) Affordability of water services in Portuguese municipalities. Revista Portuguesa de Estudos Regionais, 38, 37-46.
Authors
(2015) Uma Estratégia de Expansão da agroindústria no Interior de Portugal: será esta suficiente?. In: Neto, Paulo, Serrano, Maria Manuel (Ed.), Políticas Públicas, Economia e Sociedade. Contributos para a Definição de Políticas no Período 2014-2020, (pp 287-312). Alcochete: Nexo Literário.
Authors
(2015) A bi-regional (rectangular) Input-Output model for Portugal: centro and rest of the country. Assessment Methodologies: energy, mobility and other real world application, Coimbra: Imprensa da Universidade de Coimbra.
Authors
Contacts
Address
Faculdade de Economia
Universidade de Coimbra
Av. Dias da Silva, 165
3004-512
Portugal