Industry & academy talks | Conversas com as empresas
WEBINAR Series
14 november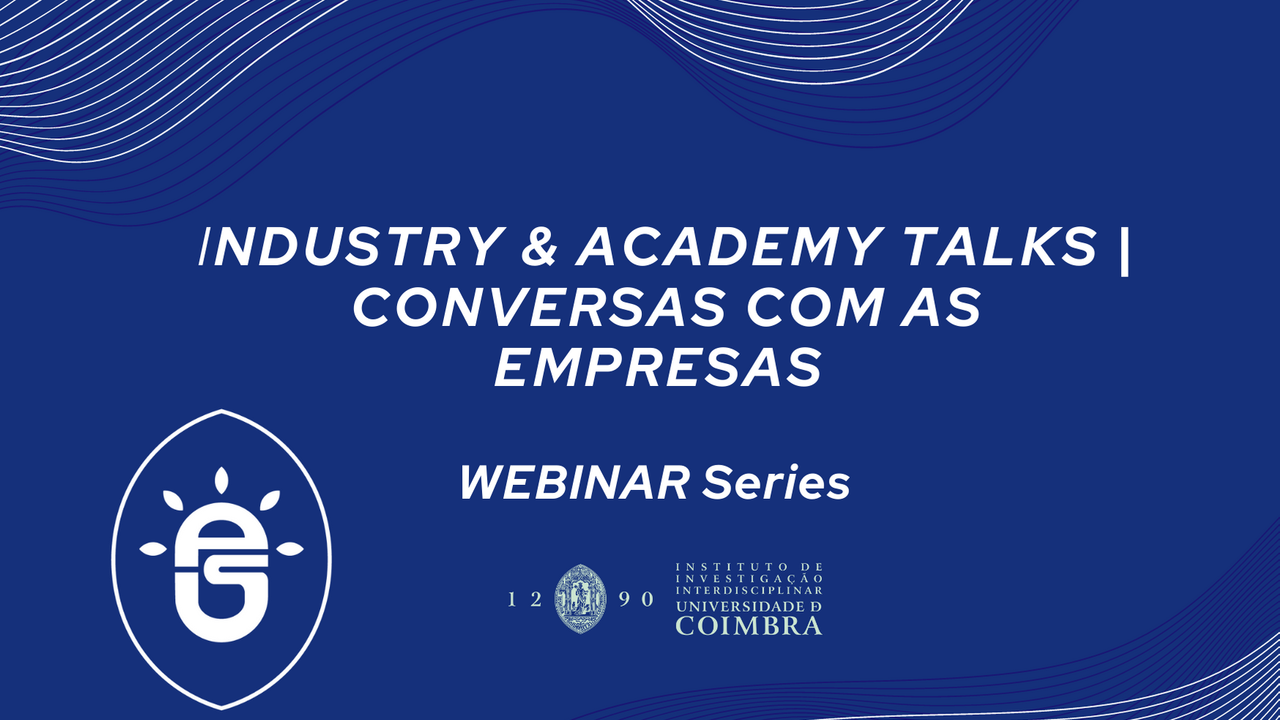 The Committee for Scientific Research and Outreach (CICLE in pt) of the EfS Initiative, Institute for Interdisciplinary Research, of the University of Coimbra, is organizing a series of Webinars dedicated to promoting contact between our students, Professors, Researchers, and Companies.
PROGRAM
2022/2023
26.10.2022 | 18h00 | Desafios da regulação num contexto de preços de energia elevados | Isabel Apolinário | Direção de Tarifas, Preços e Eficiência Energética | ERSE - Entidade Reguladora dos Serviços Energéticos

[The presentation is available upon request to com@efs.uc.pt]
17.11.2022 | 14h00 | The future in efficiency and sustainability of buildings| Paulo Santos | Director of Management and Certification Systems | ADENE, Agência para a Energia
[The presentation is available upon request to com@efs.uc.pt]
-------

2021/2022
27.10.2021 | 18:00 | Bioeconomy as a tool for territorial development | João Nunes | President & CEO of Associação BLC3 - Campus of Technology and Innovation

24.11.2021 | 18h00 | H2 CityGold – Hydrogen Fuel Cell City Bus | Pedro Espinheira Rio | Head of Electric Mobility | Caetano Bus
15.12.2021 | 18h00 | Clean Cement Line | Margarida Mateus | Research Development Supervisor | SECIL
16.02.2022 | 18h00 | Driving Regeneration: Galp strategy towards a low carbon future | Manuel Andrade | Head of Open Innovation | Galp
16.03.2022 | 18h00 | Rede de Mobilidade Elétrica em Portugal: o modelo, os números e os desafios | Pedro Machado dos Santos | Coordenador de Tecnologia e Sistema | Mobi-e
27.04.2022 | 18h00 | From research to market, the evolution of Local Energy Markets and the enabling role of Renewable Energy Communities | Luísa Matos | Co-founder & CIO/COO | CleanWatts
18.05.2022 | 18h00 | Transição energética no setor do aquecimento residencial | Luís Monteiro | Arquiteto de produto e gestão de novas tecnologias | Bosh Termotecnologia, S.A.
-------

2020/2021
07.10.2020 | 18h00 | Webinar: Industrial Symbiosis and it's potential for large scale application. Applied methods and tools by João Azevedo | ISQ: low Carbon and Resource Efficiency, RD&I.
04.11.2020 | 18h00 | A importância da inovação aberta no processo de transição energética by Cristina Correia, Director of Research, Development, Innovation | Prio Energy.
06.01.2021 | 18h00 | Recursos Energéticos Distribuídos e a Transição Energética by Jorge Esteves, Director of Infrastructure and Networks | ERSE.
03.02.2021 | 18h00 | Desafios para a produção, transporte e distribuição de energia elétrica em regiões insulares by Paulo Bermonte, Director of innovation | EDA.
03.03.2021 | 18h00 | Hidrogénio na Economia: Desafios e oportunidades. Paulo Partidário | Direção Geral de Energia e Geologia (DGRG)
07.04.2021 | 17h00| A importância da energia e descarbonização no contexto industrial. Frederico Pisco| The Navigator CompanyFrederico Pisco | The Navigator Company
19.05.2021 | 18h30 | Sistema de mobilidade do Mondego: conceito e expectativas. Eduardo Barata, Executive Manager| Metro Mondego
02.06.2021 | 14h30 | "Gestão em tempo real da Central Termoeléctrica do Complexo Petroquímico da REPSOL Polímeros em Sines". João André Coelho, Engineering & Development Senior Manager Repsol Polymers | REPSOL